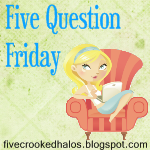 Rules for 5QF: Copy and paste the following questions to your blog post, answer them, then watch for the linky post to appear Friday morning and LINK UP!! Oh, yeah...and most importantly...HAVE FUN!!
Questions for Friday, November 5th: (Special thanks to Sandy, Bethany, Susan, Julianne(and Sugarkanke and some others, too!!) and Pam for their question suggestions! If YOU want to be linked in a future 5QF, c'mon over to my community and offer up some of your best question suggestions! You know you want to...) ;)
1. If you could have any talent and turn it into an occupation, what would it be?
Does a professional shopper count? I mean you do have to have some talent to shop, right? You have to have the ability to look for the best deals, get the before the crowds, pick the right shopping cart (I always get the one with the odd wheel, how does that happen?). I know there is such an occupation as professional shopper but that sounds too much like a job. I want to be able to buy the things I want, not from some list. Oh and I'd like to have a money tree from which I can pick money off daily to use for my shopping extravaganzas.
2. Would you rather have a house at the beach or a cabin in the woods?
BEACH! Although the peaceful, quiet, serenity of the woods sounds nice too. But, I'd still pick the beach. I love going there, I love the sounds, the smells, the water! Plus, I really wouldn't be too far from 'home' since I am only about an hour away now!
3. Is there any meaning or reasoning for the names you chose for your child/children?
Considering I didn't choose them, no. But I can't imagine them being anyone but Jaelyn & Abbie. ♥
4. What is your guilty pleasure? (I know we've done this one before, but I'm guessing people's "guilty pleasures" change frequently. At least, mine do!)
Coloring. Yes, coloring! Give me some crayons, a coloring book and I will sit for hours staying within the lines, picking the perfect colors to complete my masterpiece. I have colored with the girls a few times and although Jaelyn is getting better & better at becoming quite the little artist, her baby Sister completely ruins the experience, lol! She will run off with our crayons or books. Step on the pages. Scribbles on what we are colors to the point where I usually say OK, FORGET IT! Hopefully in time she will have the patience to sit with us, until then... Jaelyn & I will sneak off and color in peace. :)
5. Do you live in a house that is deep cleaned or straightened?
Is it possible to have both? For the most part my house is 'straightened'. But there are times when I get on deep clean kicks and shampoo carpets, wash walls/windows, take down the curtains & clean out cabinets. Those moments are far in between sometimes but they do happen! I have the used magic eraser to prove it.