I am participating in Five Question Friday this week hosted by My Little Life. Please stop over and link up to participate! Super easy, super fun!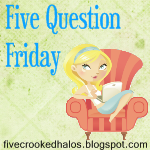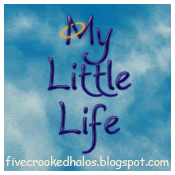 Rules for Five Question Friday: Copy and paste the following questions to your blog, answer them, then watch for the linky post to appear on Friday morning!
1. Who is the better cook, you or your spouse?
My Husband, by far. But he has a slight advantage! He grew up in the catering business. His Mom & Older Brother ran a catering hall that had parties every weekend from weddings, to birthday parties, retirement parties, etc. He would help them prepare the food, which was all homemade so he learned the tricks of the trade!
2. How often do you talk to your mom?
Probably 3-4 times a week. It really depends on how much is going on that week & what plans are in store. Normally if nothing exciting is happening I will call to check with her & see if anything new is going on. She is known for dropping by on Friday though just to check in on the 2 little darlings and say Hello!
3. Are you adventurous in the kitchen or stick to the recipe?
I follow recipes very well. We will leave it at that.
4. Is your second toe longer than your big toe?
haha! This question makes me laugh. No, my toes are all aligned the way they should be? Wait, is the second toe suppose to be longer? Great, now I'm going to ponder this all day!
5. Do you dress up for Halloween? (Bonus question: What will you be this year?)
I usually do dress up for work because we have this big contest & you can win prizes so it's a ton of fun. Last year we were hippies, the year before that we were in poodle skirts & ponytails. This year, I'm not sure what we are doing & no one seems to want to decide so I might just stick on some jeans, a red shirt and devil horns & call it a day. I'm more into dressing my two little ones this year!