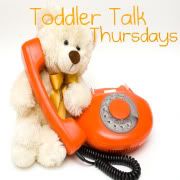 Welcome to the eleventh week of Toddler Talk Thursday! Where Family and Life in Las Vegas, Crazy about my Baybah, and My Life as a Sippy Cup Mom Talk all things Toddler!

Toddler Talk Thursday was created as a place for moms and dads of toddlers to come together over a weekly topic and share ideas, go-to toys, or products. It is a great way to meet other bloggers of toddlers. Each week the topic will be different; we invite you to link up, share your weekly Toddler Talk!

This week's topic is: Extended Family!
Tell us about your toddler's favorite extended family members!

Jaelyn & Abbie are close to all of our family members. We are a close-knit family who get together often and enjoy spending time with each other. Each person plays such a special part in their lives and will forever be engraved on their little hearts.

They call my Mom & Dad: Mom-Mom & Pop-Pop. They are often asking where is Pop-Pop? or I want to see Mom-Mom!



The are completely in love with Chris' Mom - Nana!! They have their own language with her, especially when she reads them books.



We are often spending time with my Sister & her family and my Brother & his family, which includes Cousins, Aunts & Uncles. All of whom the girls adore & love.

Uncle Billy & Jaelyn



Aunt NancyJo & Abbie



Aunt Noel



Jaelyn & my best friends daughter, Amber



COUSINS!!!



Next weeks topic will be: What's in your diaper bag?