Welcome to this week's Tuesday Tag-Along blog hop, hosted by Twee Poppets Review and Giveaway! This is a great way to discover new blogs while increasing the number of followers for your own blog.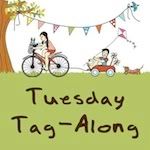 Please hop on over to Twee Poppets and join in the fun!

Leave me a comment if you are a new follower & I will follow you back.

Happy Tuesday!