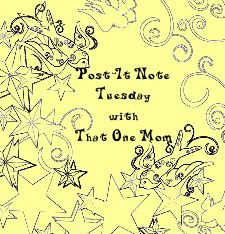 This Tuesday I am participating in Post-It Note Tuesday with That One Mom.
Please head on over & link up to this fun meme!
*Disclaimer* My Post-It's are often random & don't really contain one subject so beware when reading! =)
To make your own stickies.. go
HERE
!
Hey - don't forget to go check out my 365 Project!
and while you are clicking... How about a vote?